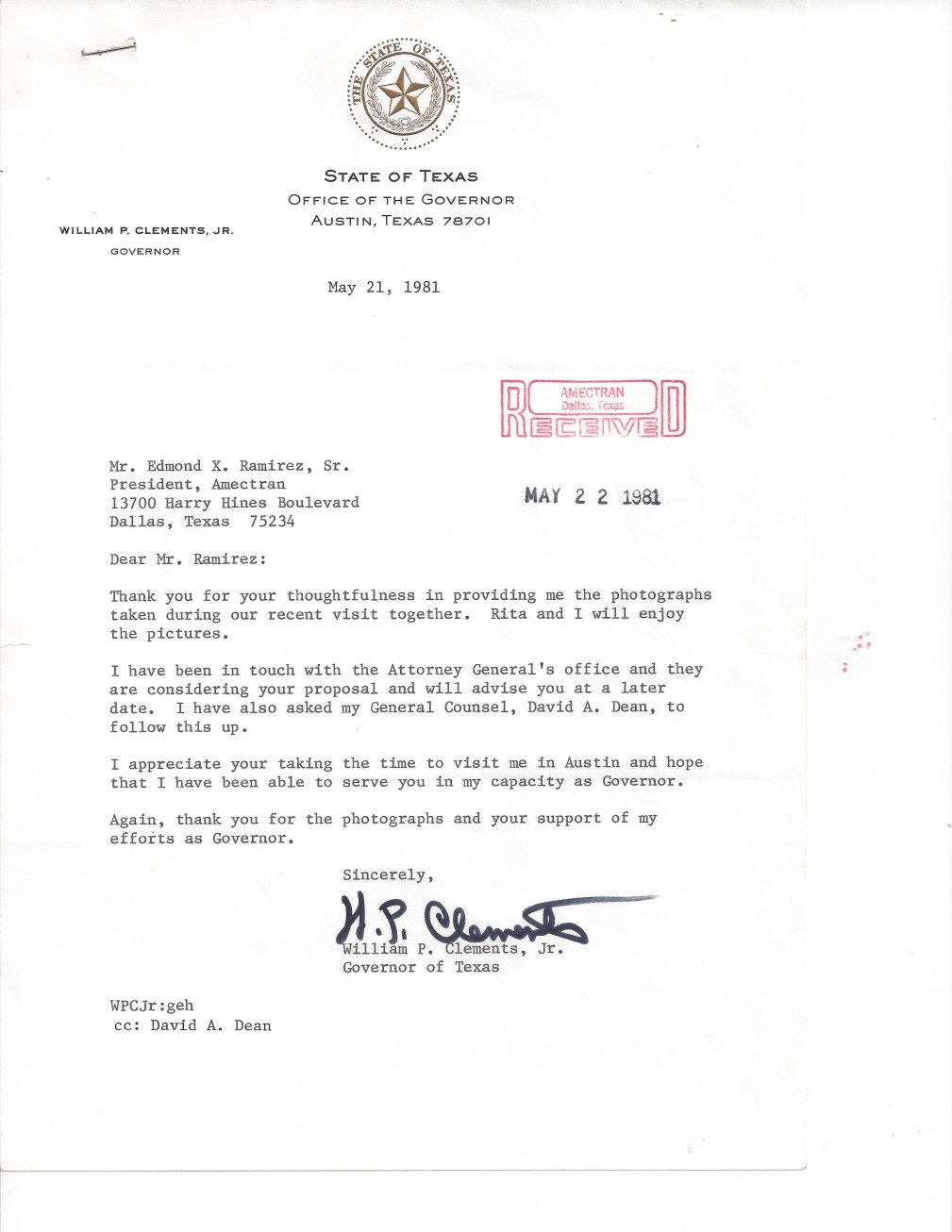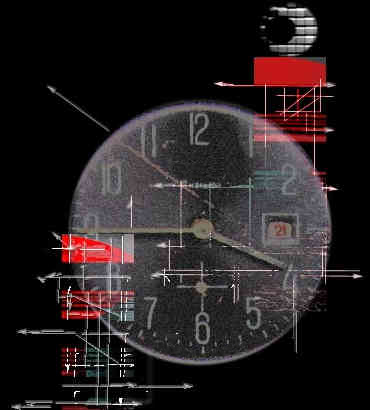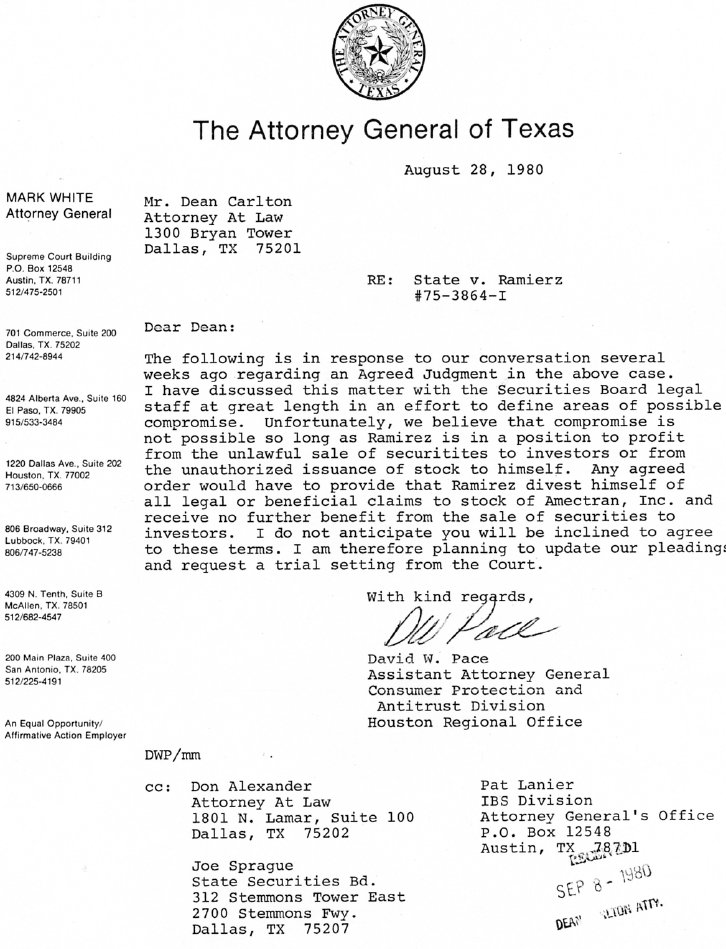 Six Year Cover-up Exposed

Ramirez's problems began when Pace confused him with Liz Carmichael (a six-foot, 200-pound transsexual, born, Jerry Dean Carmichael) who was selling a three-wheeled car known as the "Dale". Pace, thinking he was going to Carmichael's offices, instead found himself at Amectran...from then on, for a man with aspirations of becoming Attorney General, it was now time to (as the saying goes), "To cover his ass!"; that's exactly what he attempted to do for almost seven years.
During those years, Pace attempted to force one of his own investigators to lie about Ramirez...the agent knew Ramirez was innocent and refused to provide perjured testimony to save Pace; the agent resigned rather than help to put an innocent man in prison, and immediately went to work as attorney for the First Baptist Church of Dallas.

Pace's attempt to destroy Amectran failed when the Federal Court took over the case. The judge allowed Amectran to continue in business and further, allowed Amectran to continue soliciting investors to complete the original prototype. Ramirez completed the project thirty days earlier than the court had allowed. The court had the Amectran electric car known as the Yellow car (which was the world's first mini-van – see "Minivan, Who Did It First"), tested. The car passed the Court's requirements; Amectran and Ramirez won the case. As an added benefit, Ramirez's stock became 'registered and unlettered', thus meaning that none of the usual aspects of taking the company public in order to sell stock, or waiting two years for the stock to become eligible for public sale was necessary...Pace now sought revenge...










































Further, in his attempt for revenge, Pace attempted to inveigle the Criminal Investigation Division of the IRS to go after Ramirez. His attorney, Dean Carlton, discovered the conspiracy and personally went to the IRS offices to confront the IRS's Chief Attorney; he advised her that he was aware of Pace's attempts at collusion with the IRS and would bring criminal charges of conspiracy against them should they take any action against Ramirez.
For over six years David W. Pace, Texas Assistant Attorney General, had harassed Ramirez, by taking the case to court, costing Amectran millions of dollars in legal fees, employees' salaries, taxes, upkeep of facilities, etc.; plus the inevitable extremely bad publicity of such actions...after all, once you are accused of a crime and indicted by a Grand Jury, the stigma is devastating, particularly to any fund raising attempts. Even after being proved innocent of any wrong doing what-so-ever, only one newspaper carried the verdict of innocent, "…there was no wrong doing on the part of Ramirez or Amectran Inc. … ." [sic] Dozens of articles in local, state and even national periodicals carried story after story of Ramirez's so-called wrong doings…all issued by Pace…in the end, these same newspapers and magazines found, as usual, no interest in a "good news" story…particularly since they had been responsible for printing only the negative side of the story as provided by Pace.



In his attempt for revenge, Pace made an effort to inveigle the Criminal Investigation Division of the IRS to go after Ramirez. His attorney, Dean Carlton, discovered attempt at conspiracy and personally went to the IRS offices to confront the IRS's Chief Attorney; he advised her that he was aware of Pace's attempts at collusion with the IRS and would bring criminal charges of conspiracy against them should they take any action against Ramirez.
The following morning the IRS sent representatives to Carlton's office and advised him (after some discussion) that they would provide a letter clearing Ramirez of any IRS investigation. The letter arrived within 2 days basically saying – the IRS doesn't know Mr. Ramirez; does not want to know him, and wants no further dealings with him – Dean Carlton was amazed at their response; he said that in all his years of dealing with the IRS, it was the first letter of its kind he had ever seen…a letter so clear in its dismissal of a possible case, that the IRS never again had any dealings with Amectran or Ramirez.

There was another problem with Pace's letter, aside from his preemptive, "I do not anticipate that you will be inclined to agree with these terms." It seems that Ramirez had his attorney, prior to any involvement by Pace, contact the Texas State Securities Commission about what he considered a possible confusion between his car and the Dale. Further, Ramirez believed the Dale was a scam. The Commission sent an investigator who spent considerable time with Ramirez and with Amectran's books and records, as well as personally contacting banks, suppliers and others involved with the company. At the end of his investigation the SEC agent gave Amectran and Ramirez a clean bill of health stating, "I want to buy your first car."

It was obvious to Ramirez and his attorney that Pace was lying, he had certainly never spoken to the SEC (something of which Gov. Clements became aware), and was simply continuing his campaign to discredit Amectran and Ramirez. Pace constantly released news such as this as official reports to newspapers and other agencies. Constantly reported as, "Official sources from the Texas Attorney General offices have stated that Edmond X. Ramirez Sr. and Amectran… ." After all, this was an official government leaking the information so the media would run the stories...never once did the media bother to interview Ramirez. Once this campaign began, Congressmen and Senators who considered Amectran a viable political resource, because of the jobs Amectran would create, began to distance themselves. Newt Gingrich (Rep.), former Speaker of the House of Representatives, held a party in Washington, D.C. in Ramirez's honor and later taking him to Georgia to meet with a financial group who wished to place a factory in their community...these two resources also simply faded away as a result of the bad publicity.

As Pace's accusations continued for almost seven years, too many of those in political office supporting Amectran would eventually abandon Ramirez, never to return. Even after winning the case, the damage had been done – only the Secretary of Transportation, Brock Adams, and Dr. Carl Clark, Head of the Office of Passenger Vehicle Research, National Highway Traffic Safety Administration of the Department of Transportation (Clark had been appointed by the U.S. Federal Court to test the EXAR-1: He did so, proving that the EXAR-1 was able to pass every test demanded by the court, thus verifying Ramirez's claims for the car): Continued support also came from the Secretary of the Commerce Juanita Kreps whose department had investigated Ramirez for over two years, as well as Margaret Matta appointed by the Secretary as Project Officer for the Amectran Project (see U.S Secretary of Commerce Recommends Funding Amectran – under section, "The Government") remained supportive.
After Pace's failed attempt with the IRS he turns to the Department of Energy - see
"Department of Energy attempts to destroy Ramirez and Amectran".



President Regan Steps In

President Ronald Regan was asked to look into the Ramirez matter as brought to his attention by the Secretary of Transportation and Secretary of Commerce as well as the Office of Minority Business Enterprise and individuals involved with the Amectran Electric Car project.

Since this matter was taking place in Texas, the President requested Vice-President George W. Bush, Sr. (who was from Texas), to arrange for a meeting between Ramirez and Governor William P. Clements Jr. in order to review Pace's actions against Ramirez and Amectran to determine the validity of the charges.

As can be seen in the following correspondence to Ramirez, the Governor had become distrustful of the Attorney General's office, particularly after having read Pace's letter (above): during their meeting, the Governor asked, "Mr. Ramirez who are you supposed to give your stock to - General Motors?"

After reviewing the case, the Governor realized Ramirez was a victim of Pace's cover-up and assigned his own General Councel to investigate the matter.
The result can be seen in the only newspaper article to cover vindication of Ramirez and Amectran, The Fort Worth Star-Telegram. In Ramirez's hometown, The Dallas Times Herald and Dallas Morning News, who had vilified Ramirez, Amectran and the EXAR-1, never even mentioned the vindication he and his company had received.

When the Texas Attorney General's Office became fully aware of what Pace had been up to, he was forced to resign; later he became embroiled in criminal activities for which he was being investigated by Texas Attorney General's Office.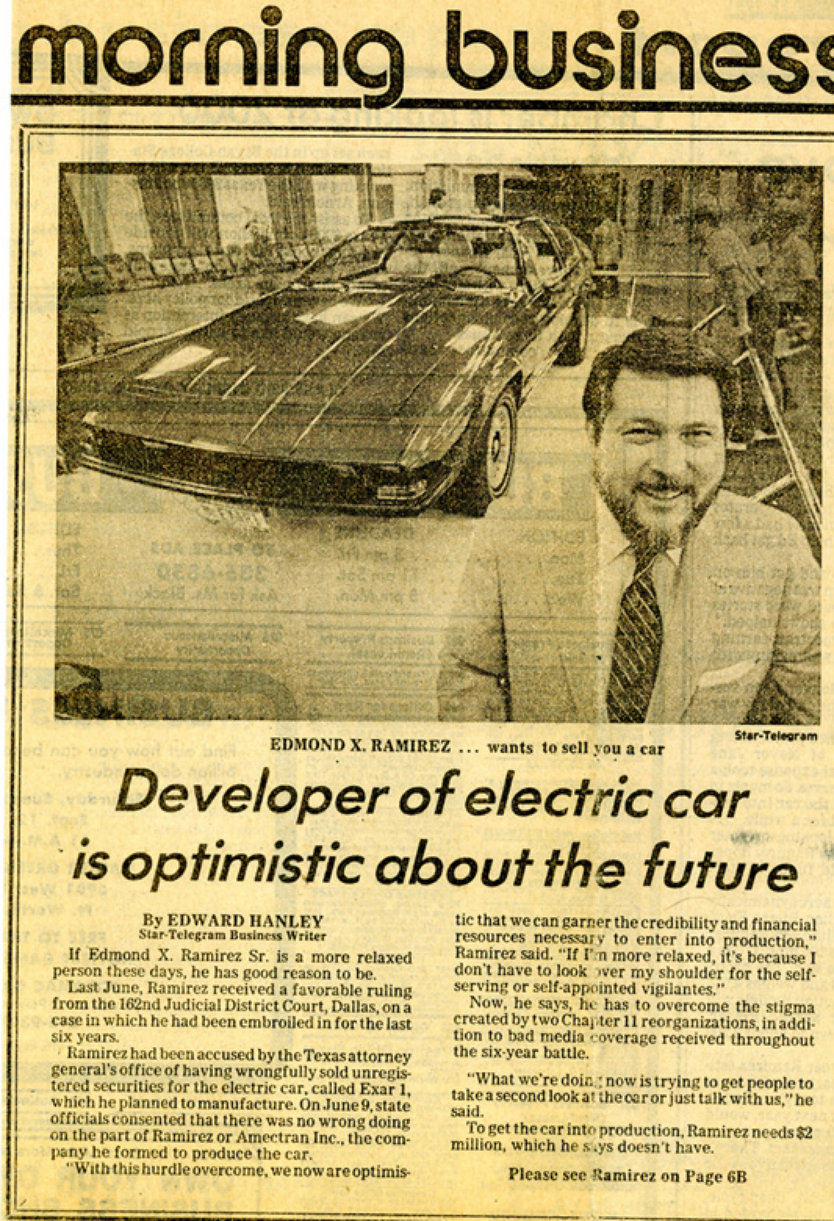 Revenge