Department of Energy attempts to destroy Amectran
and
Another Frame-up Fails
In an effort to discredit Ramirez, Amectran and the EXAR-1, a representative, Ed Brown, Assistant Director for Electric and Hybrid Vehicles, U.S. Department of Energy, contacted a well-known WFAA-TV (Dallas, Texas) television investigative reporter, Byron Harris, telling him that Ramirez was a crook and the EXAR-1 Electric Automobile was a fraud: Further, he assured Nelson that no electric car in the world could travel 50 miles-per-hour for more than a few minutes.

Armed with this revelation, and assuming the integrity of the DOE's representative, Harris went to confront Ramirez. Arriving at the Amectran facility, Harris told Ramirez he was there to do a story on his company and help dispel all the negative information about him and the EXAR-1.

Ramirez, unaware of the real purpose of the investigation opened the doors to everything, holding nothing back; after all, he was receiving only bad press so any good press would certainly be a relief.

Eventually, Harris asked for a ride in the EXAR-1: A TV camera truck was prepared and off went Harris and Ramirez in the EXAR-1 … the camera truck filming and clocking the electric car's speeds and distance. It was almost two hours, after driving around on Dallas highways at speeds between 60-85 mph, that Harris was informed he must return to the studio to have time to prepare for his segment of the news broadcast at 6 p.m.

Returning to the Amectran facility Harris told Ramirez why he was really there; he then apologized for the unwarranted deception and indicated his extreme anger at being used by Brown and the DOE. In discussing the situation, Ramirez showed him proof of the many attempts made to ruin the company. Later that evening, in his nightly report, Harris lambasted Brown and the DOE for their, "...dastardly acts ... ."

Because Harris was so angry at how he had been deceived, he contacted WFAA Radio talk host Ed Bush. Bush, like Harris, was known for exposing everything he could and as a hard and savvy investigative reporter. Harris knew that if he told Bush nothing about what had transpired, Bush would take a hard tack with Ramirez, assuming he was just another electric car nut or crook ... then when he discovered the truth, Bush would make an overt effort to help.

Harris was correct. Bush, right from the beginning, attacked Ramirez, and cut him short in his response to questioning. Bush insisted that he would not go on with the interview until he personally had an opportunity to ride in the EXAR-1; testing it for himself - the test was set for the following morning. Bush was primed to make quick work of Ramirez, saying so on-air after Ramirez left the studio.

The following morning, Ed Bush arrived at the Amectran facility; being an automobile enthusiast and extremely knowledgeable he felt he could easily expose any fraud. After driving the EXAR-1 he asked Ramirez to appear on his show that afternoon to discuss the situation: He then put in a call to his friend Harris who was not in and ask that he return his call to discuss the DOE's underhanded action.

After the show began and amenities were concluded, Bush stated that unless he had driven the EXAR-1 and examined it himself, he would never have believed it: Praising the EXAR-1 and lauding Ramirez's accomplishment, he began asking why the car was not in production.

Ramirez began by going over his latest adventure with David Pace (Assistant
AG for the State of Texas (see sitemap





– Government - "Texas Assistant Attorney General … Six Year Cover-up Exposed") and Byron Harris' recent encounter with the DOE: Bush could hardly believe that a government official would so blatantly lie, or openly do all of the things Ramirez was accusing him of … so … live on-air, he called Brown.

Brown was first asked by Bush about the electric car industry, the big auto companies reluctance to build electric automobiles and then began mentioning several known companies dealing in electric automobile research. Finally, he casually mentioned Amectran, Ramirez and the EXAR-1.

Brown had the unmitigated gall to lie to Bush on-air, telling him the car did not exist and would not do anything Ramirez claimed. Bush then advised Brown he was live on-air and that he had ridden in the EXAR-1 that morning, and the car did everything Ramirez claimed it would do ... Brown instantly hung up.

Bush then called several credible witnesses, including Dr. Carl Clark, Director of the United States Office of Passenger Vehicle Research and the Head of the Invertors Group for the National Highway Traffic and Safety Anministration (Dr. Clark was responsible for the Federal Government's Department of Transportation testing of the EXAR-1 Electric Automobile, tests which the EXAR-1 passed), it was discovered that Brown told the same lies to Dr. Clark who had just hours earlier tested the EXAR-1. (see Site Map ... Videos ... Sec. Transportation recommends and more).

Bush also called the college student and professor doing at Georgia Southwestern University whose entire class was working on electric automobile research and application … he found that they had also been lied to by Brown at the DOE.

The professor at wished to reconcile the two antithetic versions of the EXAR-1's reputation so he sent a student to do a study of the EXAR-1. Impressed with the student's report, the professor flew to Dallas.

Impressed with the reality of the EXAR-1 and advances which even J. D. Gilmore a compactor from Ling Tempco Vaught (supplier of military aircraft to the U.S.Government with a division working on electric vehicles), found it to be so exceptional he stated, "I rode in Ramirez's car the prototype does what he claims it will do." which prompted the professor to contact several universities ... Ramirez was then invited and lectured at a number of colleges and universities.

Authors and writers for books and magazines (among them, see Site Map ... "About Us" (page 6, top right-hand side, "One of the unusual... .": And "Some Body Up There Doesn't like Amectran ... Who?"), had also been exposed to Brown and the DOE's calumny.

Ramirez's credibility was certainly aided by the DOE's mendacity, something which magazine writers, authors, investigators, college students and others, found unbelievable. and were highly resentful and outraged by the Department of Energy's hypocrisy.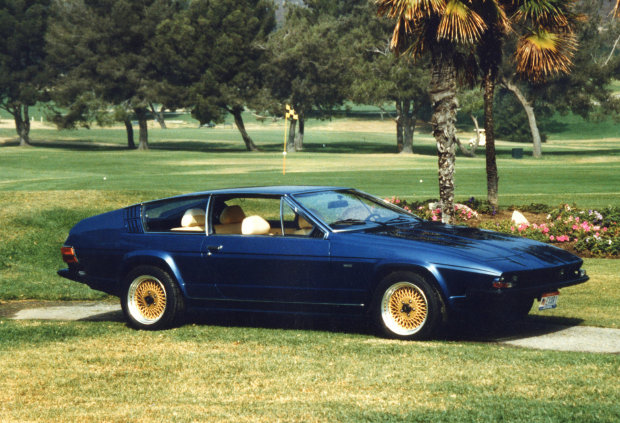 Another Frame-up Fails
On July 11, 1980, case was brought against Ramirez and Amectran in Federal Court; Judge, John C. Ford presiding, ordered that the Frua-EXAR-1 be tested; this order coming as a result of an accusation by a member of the Department of Energy, Ed Brown and supported by David W. Pace (see sitemap – Government – "Texas Attorney … Cover-up… ." ), both Pace and Brown had reason to hate Ramirez

This act of calumniating Ramirez, by bring him to court, as well as that mysterious "Who?" (see sitemap - "Somebody Up There Doesn't Like... ."), lobbying those government officials and prosecutors, who have nothing better to do (referred to as the "White Collar Mafia" by Forbes Magazine), had been provided sufficient false information to go after Ramirez once again.

Ramirez was considered one of the biggest con-men in the world ... since no electric car in the world could do what he claimed – his enemies new better. In open court, Judge Ford told Ramirez that if his car did not meet the specifications as stated, 'he would go to prison' ... of course, Judge Ford then did everything he could to see to it that Ramirez would go to jail. It seems that Judge Ford was totally taken-in by Pace, Brown, the supposed IRS investigation (which the IRS had already dropped) and the prosecutor's perverse accusations exacerbated by innuendo and speculation of information furnished by Pace and Brown.

Judge Ford ordered that the U.S. Department of Transportation set up the test and have it conducted at the Ontario Motor Speedway in California. The DOT then assigned Dr. Carl C. Clark, Inventor Contact, Office of Passenger Vehicle Research, R&D, National Highway Traffic Safety Administration, to administer the test. After researching the testing protocol, Dr. Clark realized that Ramirez was being forced, by the court, to test a production setup prototype, not a test vehicle.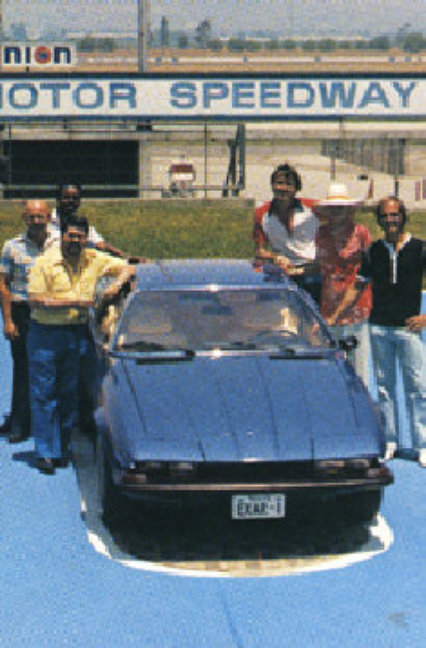 Pictured left to right,

Ed Ramirez, inventor of the EXAR-1; Test driver Howard Cassett; Elliot Small, Chief Investigator For the U.S. Dept. of Commerce; Gus Pellizzi,
Amectran VP; Betty Guffey Amectran, AA and Pat Boone, movie star and singer...photo taken on final day of successful Federal Government testing of the EXAR-1 at the Ontario Motor Speedway, CA

Dr. Clark officially protested to Judge Ford, that the test demanded was patently improper and unfair as Ramirez was being asked to test this specific Amectran vehicle.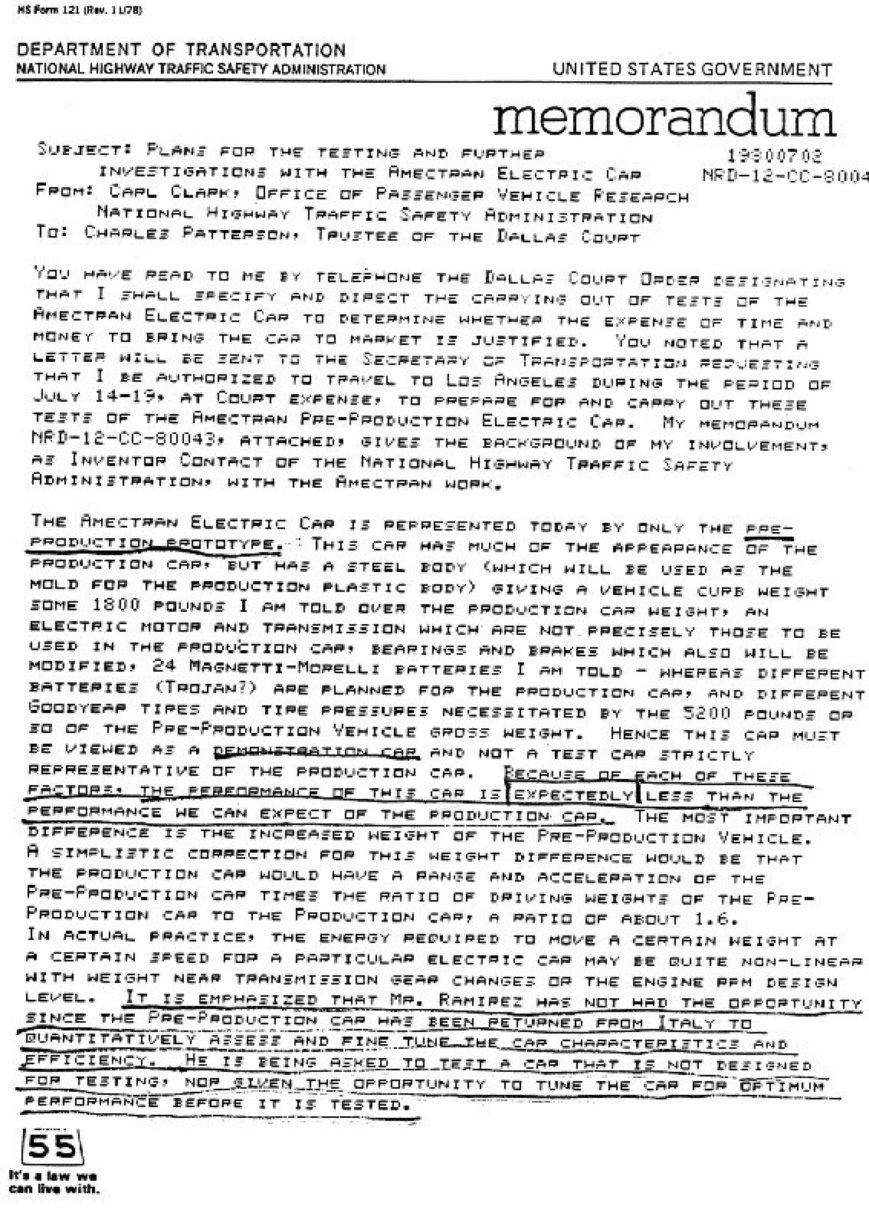 "It is emphasized that Mr. Ramirez has not had the opportunity since the pre-production car has been returned from Italy to quantitatively asses and fine tune the car characteristics and efficiency. He is being asked to test a car that is not designed for testing, nor given the opportunity to tune the car for optimum performance before it is tested." [sic.]

As is obvious, Pace had a reason for his hatred of Ramirez, his attempted cover-up had cost him his job and reputation; his attempt to inveigle the IRS failed; so collusion with the DOE simply gave him another opportunity … all of which failed.

The DOE on the other hand, had another problem with Ramirez and Amectran. Earlier, the DOE had put out a bid request for an electric automobile; several companies put in bids including Amectran (Ramirez's company) and Chrysler Corporation. In the submissions, Amectran already had an electric automobile which exceeded the government's requirements; Amectran had been in business with superior research and development longer than any other company in the world; was a minority entrepreneur ... his bid was for one-million, two-hundred thousand ($1,200,000) dollars to deliver a totally new developed (from the ground up) electric automobile.

There was no question Amectran should have received the bid over Chrysler, however, it was Chrysler who won the bid ... spending thirteen million ($13,000,000) dollars (10 times more than what Ramirez had bid); their car was a conversion of one of their gasoline cars with batteries and electric motor. To save weight, Chrysler even took out window mechanisms and taped them up (see, sitemap - "About Us," - page 6, "One unusual aspect... ." And more). There is little doubt that Amectran's EXAR-1 electric automobile, presented on the cover of Southwest Airlines Magazine, was about to present a problem for the DOE, particularly if Ramirez and his car were not discredited.


Both the DOE and Pace were aware that this particular car was overweight, a definite disadvantage to any electric automobile, and made the demand to the Court; no question the Judge adhered to their demands ... after all, they represented the Government and Ramirez was merely the accused ... certainly, 'innocent till proven guilty' did not seem to apply to this Judge. In open court, the Judge stated that if the car did not work as Ramirez represented he would go to prison…

… the test over, Ramirez back in court, told the Judge, "You don't have to apologize." These duplicitous acts did not work...
The Frua-EXAR-1 passed every test.

It must be noted that while Ramirez won the case, the millions of dollars spent in his defense of the EXAR-1 were lost, and continued national publicity and loss of reputation without national recognition of the successful testing of the EXAR-1, devastated any efforts to raise the funds necessary to start a factory.