.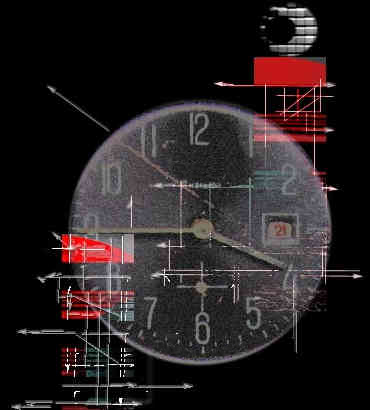 In the opening days of 1980 Chicago Automobile Trade Show Paul Brian, WFAA Dallas, Texas Radio and TV host learns through the station's wire service and numerous phone calls from colleagues and other media representatives that as the event was taking place, Ross Kelsey, president of the show, had his son, who was head of security, attack the Amectran crew and Mr. Ramirez, keeping the EXAR-1 Electric Automobile out of the show.

Brian then attempted to find Ramirez in Chicago; angry, and aware of the massive effort to destroy the EXAR-1 project, he walked off his live on air broadcast and flew to Chicago to see if he could be of assistance. Leaving immediately, he arrived in Chicago in his shirt sleeves, Dallas weather was summery, but not so in Chicago, with temperatures in the mid 30's.

Ramirez had been on his show several times and Brian had become aware of many of the illicit attempts to discredit Ramirez and his electric automobile. Brian told his radio listeners before leaving, that what was taking place at the Chicago Automobile Trade Show was unbelievable and that a man has to basically do what is right, regardless. He mentioned that it was like taking on a, "…Quixotic… ." challenge. Brian ended by saying, that even with his responsibility to his family, "I think I'm going to go and fight windmills," as left the studio.
Prior to the opening of the 1980 Chicago Automobile Trade Show where Edmond X. Ramirez, Sr. inventor of the EXAR-1 Electric Car, was to present his electric automobile, Ramirez and his crew were so physically attacked and Ramirez suffered injury. This premeditated attack prevented them from setting up Amectran's display. Ramirez had spent over $250,000 for the formal presentation of the car. The expense included large color posters, printed materials, pins, key chains, T-shirts, and jackets, to be given away at the exhibit. The EXAR-1 was to go on to the largest red, white and blue display area for a single automobile ever presented at that show.


Brian personally arranged for Walter Payton famed Chicago Bears Football player, to visit with Ramirez and ride the EXAR-1; after which, Payton showed great interest in investing in the project, however as he was representing Buick at the time, the conflict of interests became a stumbling block. On the Site Map under Pictures Including ... Patton and EXAR-1

During the two days of the show, Brian became more frustrated at what he was learning, warning Ramirez of what his friends in the media were telling him. After having to spend over $50,000 to hire Chicago law firm, Friedman and Koven, to protect the interests of Amectran and have charges brought against the Chicago Automobile Trade show, its president, Ross Kelsey, his son and those others involved in their forceful attack, Ramirez was informed by Brian that nothing would be done and spending more money on attorneys was fruitless: After all, this was Chicago, Amectran was an outsiders. They protected 'their own'. No one was ever indicted or charged ... as usual, for Ramirez, there was no redress.

Brian continued to help Amectran, working to inform media sources in Dallas as to the reality of the Amectran and Ramirez saga. "The Dallas Morning News" articles however, were not only negative but supported any malicious rumor or story about both the EXAR-1 and Ramirez. If the innuendo, speculation or story smacked of fraud, any illegal activity or anything which would discredit the EXAR-1 "The Dallas Morning News" would print it. A result of the newspaper's rapprochement with David Pace (see "Site Map – The Government – Texas Assistant Attorney General David Pace… ." What is unusual about Brian's situation was that he worked for WFAA Radio and Television, which was owned by the "Dallas Morning News."

In September of 1981, the only local newspaper to print the story of Ramirez's victory in court was "The Fort Worth Star-Telegram". Later only Scene Magazine, South West Airlines Magazine, as well as some minor coverage in newpapers and magazines around the world, as well as a Canadian television news station included the only TV media that reported his winning of the six year court case and the beating Ramirez took at the show.
Kelsey had previously sent Ramirez a telegram (of course he did so knowing Ramirez and his crew were already on the road and would never receive it) telling him he was out of the show … with no explanation. Upon arrival Ramirez encountered bad press and commentary stating that one of the reasons he was being kept out of the show was he had not paid his entry fee. In fact, the fee had been paid; Ramirez was carrying the processed check indicating he had paid the entry fees weeks before.

Confronting Kelsey, Ramirez demanded a explanation for the expulsion. Kelsey told him he felt a moral obligation to the public as a result of his legal problems. Ramirez pointed out that he had not been charged, nor had he ever been found guilty, of any crime and had won his case in Texas a considerable time before the show had accepted his payment..

Ramirez further challenged him by saying that several of the automobile manufactures in the show had recently been found guilty of fraud, as well as deaths of individuals … right there in Chicago … so if morality is the question, "Why are GM and Ford being allowed in the show, after all, they have recently been found guilty of a number of crimes including the death of dozens of people." Kelsey remained adamant, with no response.
In an attempt to enter the show the previous day (before Ramirez was contacted), there was a melee where Ramirez was being struck repeatedly and began to fight back defending himself when Chicago friends from the Hispanic community intervened. Restraining Ramirez they explained that such a situation had occurred in the past, with show officials using that as an excuse to put those people involved in jail and that, no doubt, was what they would attempt to do in order to charge Ramirez and put him and his crew in jail. The evening before the show, Ramirez had been presented a "Man of the Year" award from the Chicago's Hispanic community. Fortunately for Ramirez, a number of those officials present at the award ceremony accompanied him that morning, preventing what would certainly have resulted in his arrest for physically defending himself and definite expulsion from the show.

WGN Television filmed the confrontation and later learned from one of their "stringers" that the leader of those who attacked Ramirez was Head of Security for the Chicago Automobile Trade Show, as well as being Kelsey's son. WGN immediately notified Mayor Byrne who personally sent police officers to protect Ramirez, his family, crew and equipment. Mayor Byrne also notified show officials that Ramirez's display was to be allowed in the show by the following morning or she would close the show down.

Paul Brian went to work immediately upon his arrival in Chicago by contacting several friends and acquaintances in the media to discover what was taking place. He found that a number of false accusations had been made against Ramirez and a race issue had developed with numbers of persons threatening to burn down McCormick Place. By evening Brian had arranged for several radio stations and WGN Television to air broadcasts in an attempt to have Ramirez defuse the situation by explaining to both Hispanic and Black communities that he would be in the show the following day.

Police and members of the show's union arrived at Ramirez's hotel late that evening; authorities asked that he please send his wife and three small sons back to Dallas, for their safety: Under police escort, his family left Chicago the following morning. They also came to advise him that they were there not only to protect him, his wife and family, but to guarantee safe entry to the show the following day. The Union representative assured Ramirez that the display and everything needed would be in place the following day.

By the time the show opened the following morning the display was ready and records for attendance set in the 1940's were broken. Thousands lined up to view Amectran's EXAR-1 Electric Automobile. Attendees began placing orders for the EXAR-1 by making $1,000 deposits. In less than two days 22,000 orders were placed for the EXAR-1.
A recording of Brian walking of his radio show live on air will soon be available.